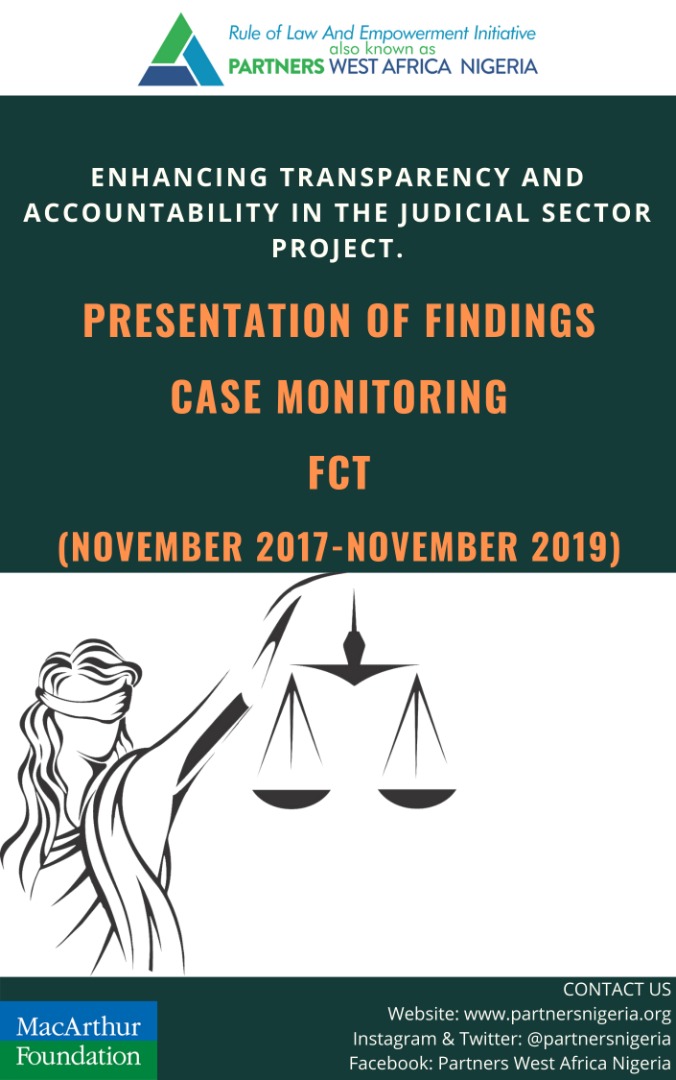 PRESENTATION OF FINDINGS: CASE MONITORING FCT (NOVEMBER 2017-NOVEMBER 2019)
PWAN has been involved in contributing to building and strengthening the social accountability of the judicial sector since 2016, by collaborating with the judiciary to have citizens observers placed in selected courts  to assess the court processes and in recent times the compliance to the Administration of Criminal Justice Act in the Federal Capital Territory and the Administration of Criminal Justice Laws in Ondo and Lagos States with support from the MacArthur Foundation.
To ensure effective collaboration, PWAN worked with the Chief Judge of the High court of the FCT, the Administration of Criminal Justice Monitoring Committee (ACJMC), Nigeria Institute of Advanced Legal Studies, the court registrars of the courts being observed, the Nigerian Bar Association (Unity Bar and Gwagwalada) and  Civil Society Organizations including the media.
The findings in this report are based on the monitoring of criminal cases, with specific focus on anticorruption cases from November 2017 till November 2019. Each observer monitored at least 3 criminal cases from commencement to completion; as at the time of development of this report, some of the cases are yet to be disposed or completed.
Download Case Monitoring Findings
Related Posts