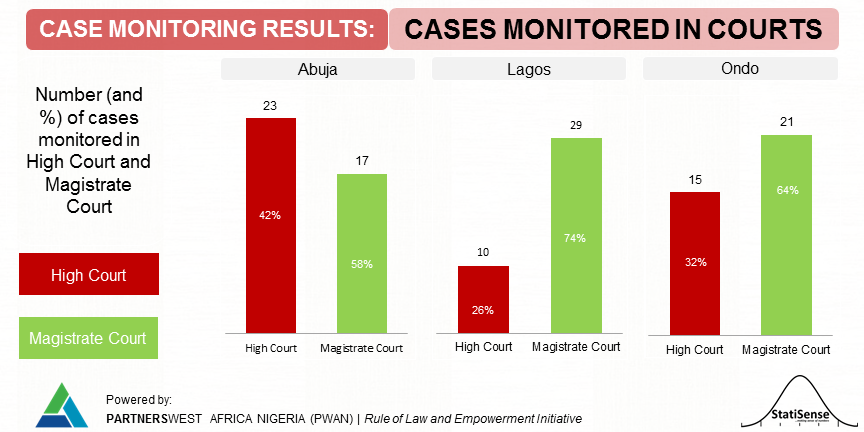 INFOGRAPHICS ON CASE MONITORING IN FCT, LAGOS AND ONDO (NOVEMBER 2017-SEPTEMBER 2018)
The Enhancing Transparency and Accountability in the Judicial Sector project is a 3-year project being implemented by the Rule of Law and Empowerment Initiative (also known as Partners West Africa Nigeria) with support from MacArthur Foundation.
The goal of the project is to enhance integrity in the Nigerian Judicial System through court observations; promote the implementation of the Administration of Criminal Justice Act/Law (ACJA/L) in the FCT, Lagos & Ondo states; enhance citizen's participation in judicial processes and improve access to information on judicial proceedings with regards to compliance of the ACJA/L. We aim to achieve this through social accountability in the judicial sector.
A total of 65 courtrooms are being observed in the three states (FCT- 20, Lagos-25 and Ondo-20) One of the strategies PWAN adopted to monitor the level of compliance to the ACJA/L is the monitoring of cases. Observers were asked to select 3 cases each (majorly criminal cases and civil in some instances) for which they would observe from commencement to disposal. The infographics below are based on cases that commenced in November 2017, some of which have been concluded, to September 2018.
CASES MONITORED IN COURTS ACROSS THE THREE STATES
NATURE OF CASES
TERMS AND CONDITIONS OF BAIL
VALUE OF THE CASE
NAME OF PROSECUTING AGENCY (LAGOS, FCT, ONDO)
NATURE OF REPRESENTATION FOR DEFENDANTS AND WHO WAS RESPONSIBLE FOR FULL OR PARTIAL REPRESENTATION
SPEEDY TRIAL
CASE MONITORING RESULTS
Related Posts