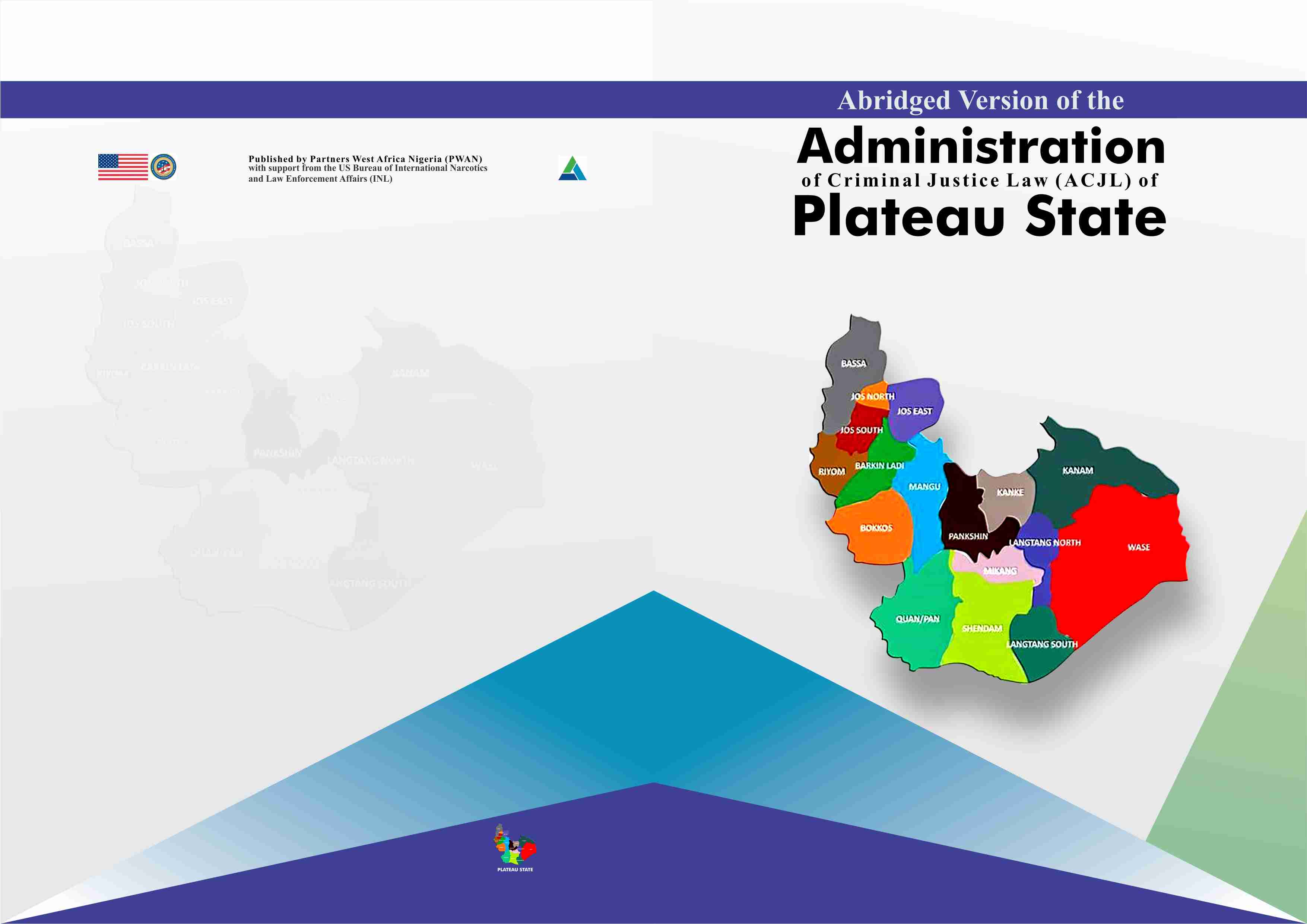 ABRIDGED VERSION OF THE ACJL PLATEAU STATE
The Administration of Criminal Justice Law (ACJL) of Plateau State was signed into law on 25th September 2018 with the intention of introducing fundamental reforms envisioned by the Administration of Criminal Justice Act (ACJA) of 2015. The Plateau State law aims to deal with criminal justice issues such as delays in criminal trials, human rights abuse, abuse of power by law enforcement agents, etc.
The Administration of Criminal Justice Law of Plateau State introduces fundamental improvements with a view to promoting efficient management of criminal justice institutions, speedy justice dispensation, safeguarding of the society from crime, and protection of the rights and interests of the suspect and the victim within the State. It repeals the Criminal Procedure Code Law of Plateau State and is now the primary legislation used in conducting criminal cases in the State. This abridged version of the ACJL Plateau State aims to simplify and ease consistent understanding and interpretation of some relevant day-to-day provisions by providing an expressive summary of the key provisions of the Law.
This pamphlet is the outcome of a research carried out by the Rule of Law and Empowerment Initiative, also known as Partners West Africa Nigeria (PWAN), with influence from the work already done by the Centre for Socio-Legal Studies (CSLS)[1] towards implementing the ACJA nationwide. It is concise and recommended for every person who desires an apt overview and basic understanding of the relevant day-to-day provisions of the Plateau State law, so as to be able to take necessary actions. The need for this version arises from the recognition that the good people of Plateau State, justice and non-justice actors alike, have a role to play in the implementation of the Administration of Criminal Justice Law of the State.
[1] Centre for Socio-Legal Studies (2017) Administration of Criminal Justice Act, 2015 Simplified
DOWNLOAD PLATEAU ACJL
Related Posts